Guard Pro PTZ 2K QHD 360 Degree Wi-Fi Outdoor Plug-In Power Security Camera
Includes pre-installed 32GB Micro SD Card
Guard Pro PTZ 2K QHD 360 Degree Wi-Fi Outdoor Plug-In Power Security Camera
PLEASE NOTE: This system requires access to an electrical outlet.
LIMITED QUANTITIES REMAINING!
*Discount Valid on Full Priced Items Only. Exclusive Bundles, Open Box, & Extended Warranties Not-Applicable.
OVERVIEW
SPECS/SUPPORT
REVIEWS
360° Pan & Tilt Coverage
Smart Motion Tracking
2K QHD ClearVuᵀᴹ Technology
Vibrant Color Night Vision
Two-Way Talk
Audio Recording
360° Pan, Tilt
& Zoom Coverage
Eliminate blind spots and view every angle with the ability to pan and tilt the camera. Digitally zoom in and out to precisely see every detail, near and far. Install your camera on any wall or ceiling using the included versatile mounting bracket.
SMART MOTION TRACKING
Using cutting-edge motion tracking technology, Guard Pro PTZ detects any object in motion. Once enabled, the security camera follows an object in motion, recording its every move.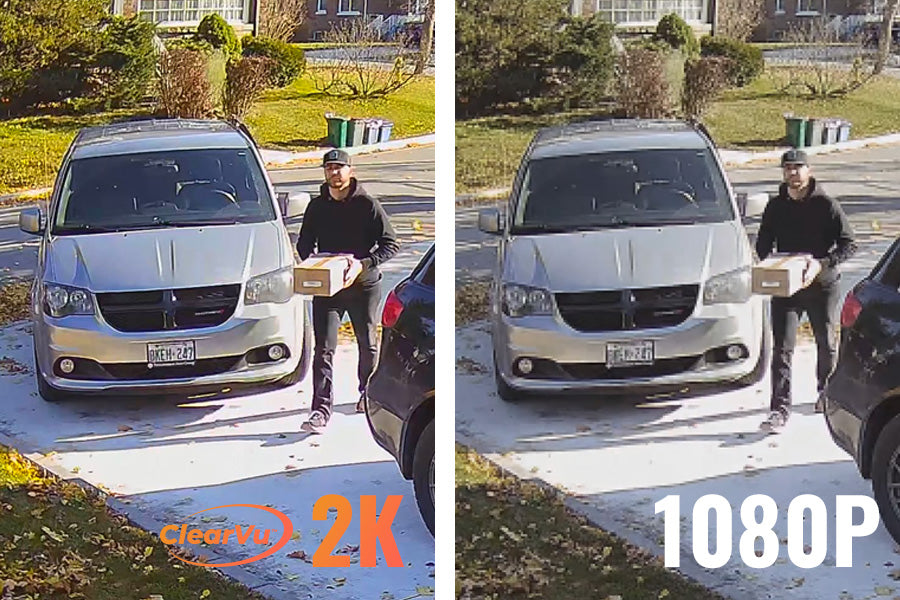 2K QHD Technology
Capture crisp detail for ultimate protection in unparalleled 2K QHD clarity with audio recording. Using a 3.6mm lens, record true-to-life footage, including visibility of faces and license plates at an incredible 25 frames per second (FPS) of recording!
GigaXtreme™️
Wireless Technology
Using highly optimized wireless technology, never worry about interference or messy wiring again. Simply plug in your camera and wirelessly connect your camera to your Defender Guard App up to 100 feet away!
Vibrant Color Night Vision
A huge leap forward in low-light recording! Capture every detail, up to 100 ft away, day or night. Vividly see full color, even in complete darkness.
SMART HUMAN DETECTION
Using cutting-edge technology, the Defender Guard Pro PTZ camera can easily differentiate between humans, animals, and other objects, significantly reducing unnecessary notifications.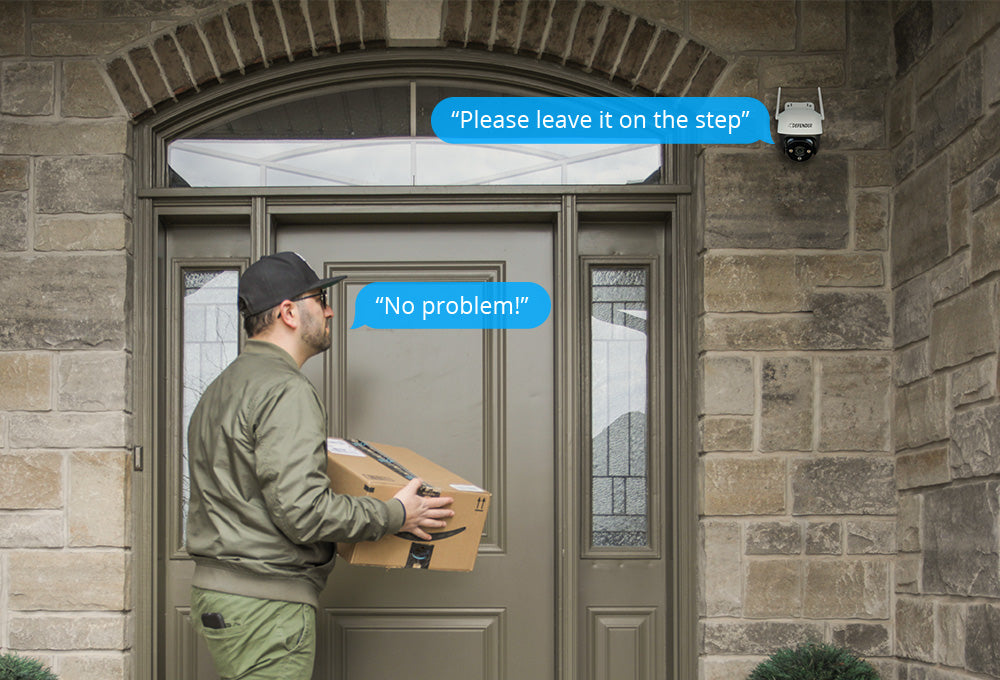 Crystal Clear
Two-Way Talk
Remarkably crisp two-way audio between your App and camera allows you to speak to visitors or intruders no matter where you are.
Audio Recording
Give your video footage the full story with extremely clear audio. Using a high-sensitivity mic, sound and picture are perfectly synchronized to get the full picture of what really happened.
Superior Digital Zoom
See more detail at a greater distance. Guard Pro PTZ uses a 3.6mm lens and zooms in up to 8x to clearly see license plates and faces.
LED SPOTLIGHT & SIREN DETERRENCE
Stop intruders in their tracks and add peace of mind with the powerful LED spotlight and loud 110dB siren.
5 Minute Setup
Download the App, power on your camera, and customize your settings, it's really that easy!
Download the App
Mount Your Camera
Connect to WiFi
No Monthly Subscription Fees or Hidden Costs
Recording that never stops. NEVER PAY to store your recordings again! Use the included 32GB micro-SD card and get up to 36 hours of full 2K QHD recording. Expandable up to a 256GB SD Card giving you 244 hours of recording.
Premium Defender Guard App
Live View
Save & Share
Notifications
Playback with Sound
IP66 WEATHER RATED CAMERAS
These cameras are built tough and rated IP66 to provide maximum durability. Install your cameras with confidence knowing you will be fully protected against decay due to UV light, dust, and full resistance to water.
Secure Guard
Bank-Level Encryption
Designed with your privacy in mind, keep footage secure with advanced 128-bit Secure Guard encryption. All recorded footage is for your eyes only and is NEVER uploaded to the cloud.
DESIGNED FOR EVERYONE
Designed to be simple, the Guard Pro PTZ is the perfect solution to protect your home, convenience store, restaurant, or warehouse.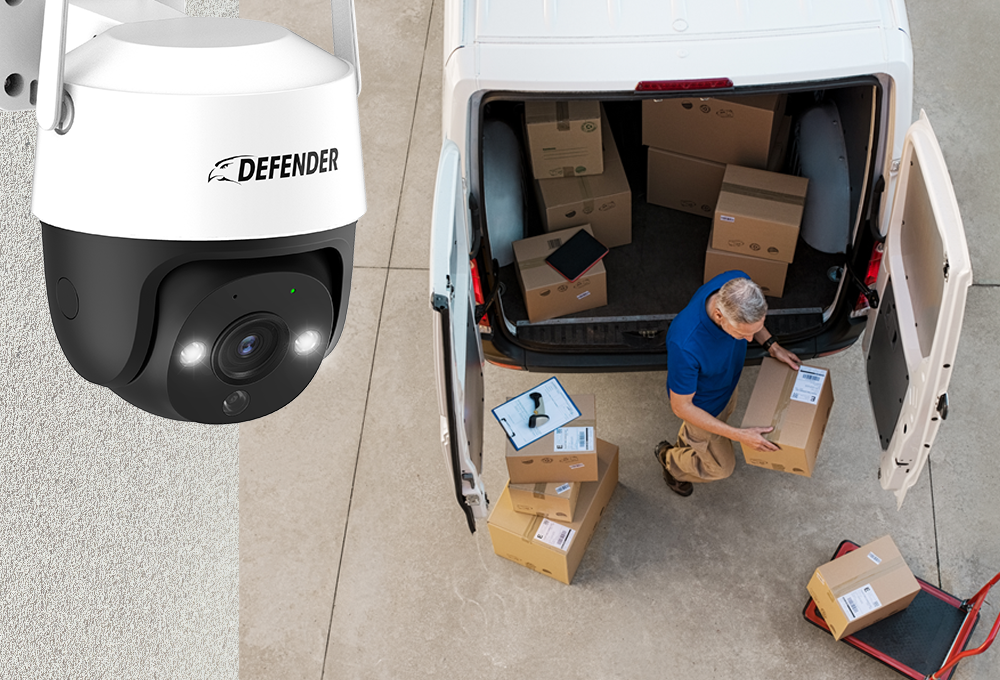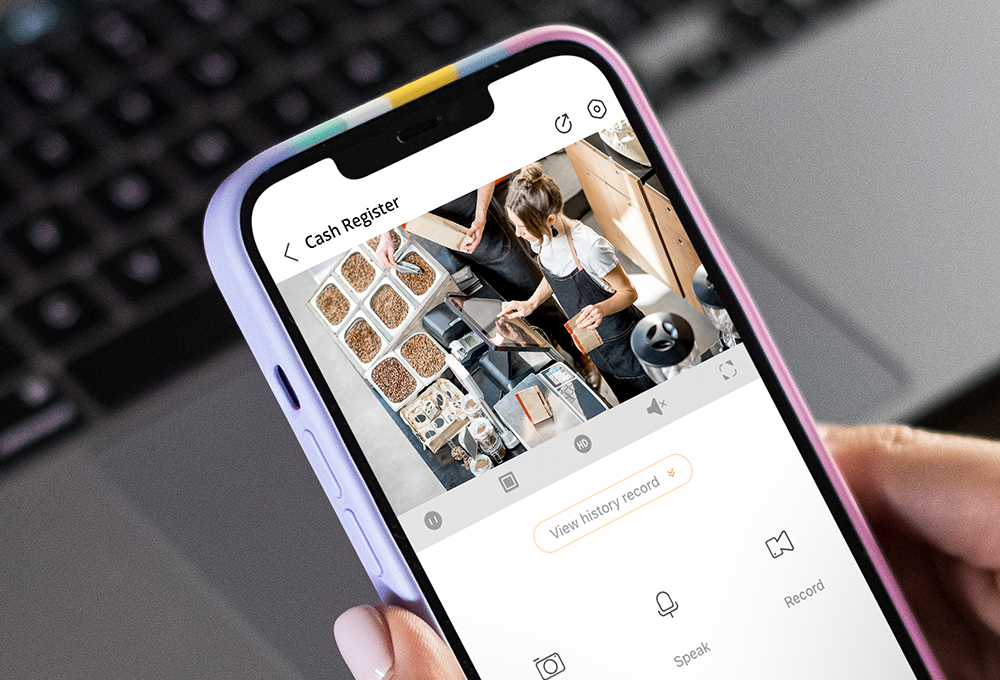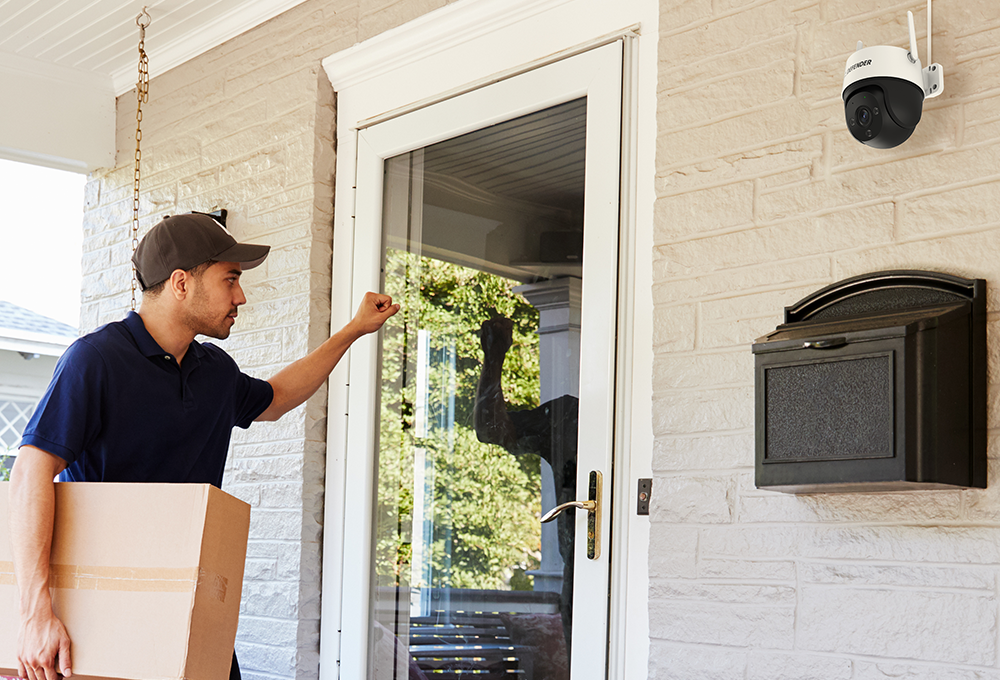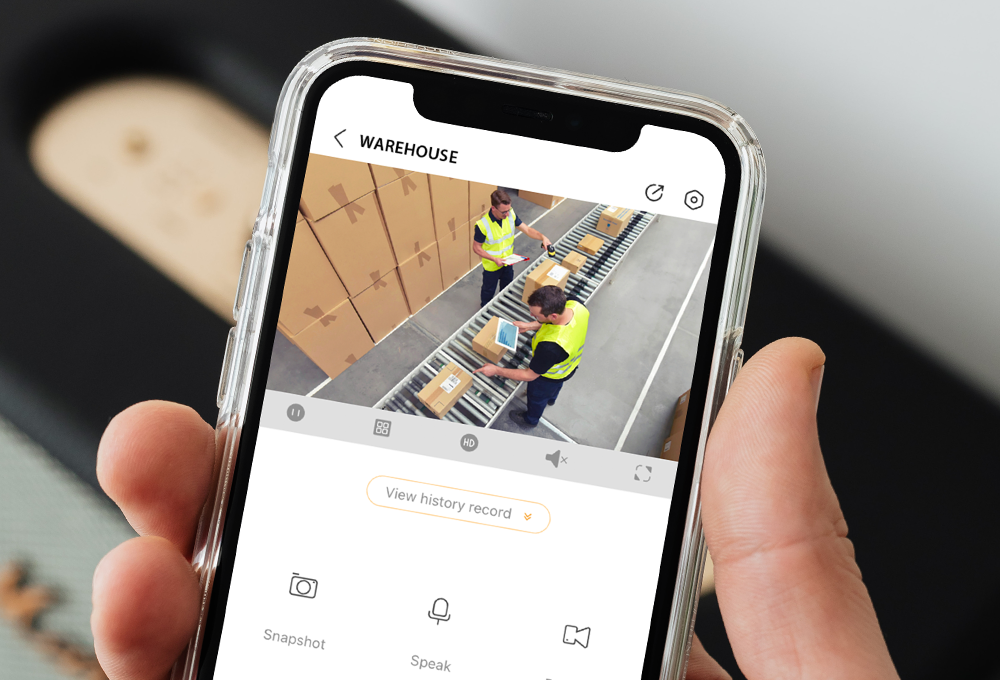 Security in the palm of your hand
The Defender Guard App allows you to take control of your security anywhere, anytime. Easily view, download, share, and save footage on the go.
Intelligent Notifications
Receive intelligent notifications for motion and human detection and set activity regions to reduce false alerts.
Activity Regions
Block off high traffic areas to reduce notifications
Save & Share
Easily download and share footage from the app
See More
Connect up to 6 cameras to your app.
1 x Defender Guard Pro PTZ Color Night Vision 4 MP Wi-Fi Pan-Tilt Smart Camera with pre-installed 32GB SD Card

1 x Mounting Hardware Set

1 x Versatile Mounting Bracket

1 x Camera Power Supply (12V/1A 10 ft)

1 x Extension Cable (25 ft)

1 x Window Warning Sticker (5" x 3")

1 x Ethernet Waterproof Cable Shield

1 x Drilling Template

1 x Quick Start Guide

1 x Warranty Registrations Insert

Lifetime Live Chat Support
1/3'' 4MP Progressive CMOS
Up to 98 Ft (29 m) distance
Up to 75 Ft (22 m) distance
3.6 MM fixed lens and horizontal FOV: 79°, vertical FOV: 44°, diagonal FOV: 94°
Camera Operating Temperature
-40°C ~ 50 °C (-40°F ~ 122°F )
PLEASE NOTE: The power supplies are not water-resistant and should not be used outdoors.
4.75" × 5.36" × 7.22" (12.1 x 13.6 x 18.3 cm) Approx. 0.87 lb (4.9 kg)
1 x 100Mbps Ethernet Port, Wi-Fi: IEEE802.11b/g/n, Dual Antenna ONVIF
Maximum number of cameras
Connect to a maximum of 6 cameras per location with a maximum of 16 cameras per app.
Customizable push notifications with the option for do-not-disturb mode.
32GB Micro SD = 36 Hours (Average Recording Time)

64GB Micro SD Card = 72 Hours (Average Recording Time)

128GB Micro SD Card = 144 Hours (Average Recording Time)

256GB Micro SD Card = 288 Hours (Average Recording Time)
Maximum SD Card Supported
Guard Pro PTZ - Quick Start Guide
Support Videos
How to Connect Your Guard Pro PTZ Camera to Your Guard App | GUARD PRO PTZ
"The app itself utilizes 128-bit encryption. This is the same level of encryption used by major banks, as well as Apple's "unhackable" phone encryption"
"The daytime image quality and resolution are absolutely the best you'll find at this price point"
Proudly Canadian for over 20 Years.
---
IP4MCB1PROPT
Frequently asked questions
Does Defender Provide Free Shipping?
+
What is the Return Policy?
+
What is Defender's Price Match Guarantee?
+
WHAT IS THE DIFFERENCE BETWEEN THE GUARD AND GUARD PRO/PTZ CAMERAS?
+
DOES GUARD PRO PTZ USE THE SAME POWER CONNECTION AS THE GUARD PRO?
+
HOW MANY GUARD PRO PTZ CAMERAS CAN I CONNECT TO THE DEFENDER GUARD APP?
+
WHAT IS THE MAXIMUM STORAGE SPACE FOR RECORDED FOOTAGE?
+
IS GUARD PRO PTZ COMPATIBLE WITH ANY DEFENDER CAMERA SYSTEM?
+
WHAT DEFENDER APP IS COMPATIBLE WITH THE GUARD PRO PTZ CAMERA?
+
HOW SHOULD THE ANTENNAS BE POSITIONED?
+
What Do the Different Colors on the LED Indicator Light Mean?
+
DOES THE GUARD PRO PTZ RECORD AUDIO?
+
WILL THE GUARD PRO PTZ RECORD IF THERE IS AN INTERNET OUTAGE?
+
Can I View Live or Recorded Footage From a Web Browser?
+
WILL THE GUARD PRO PTZ RECORD ALL THE TIME OR JUST WHEN IT DETECTS MOVEMENTS?
+
Frequently Bought Together