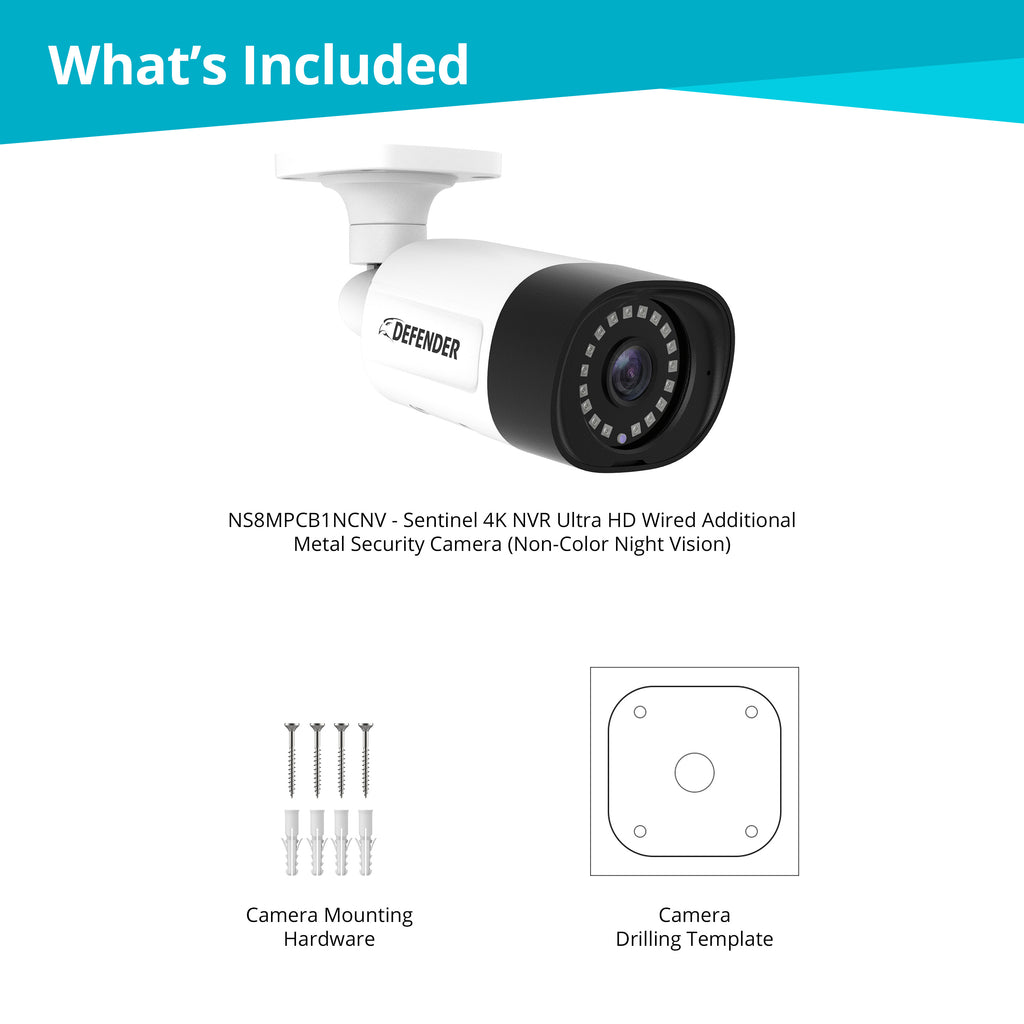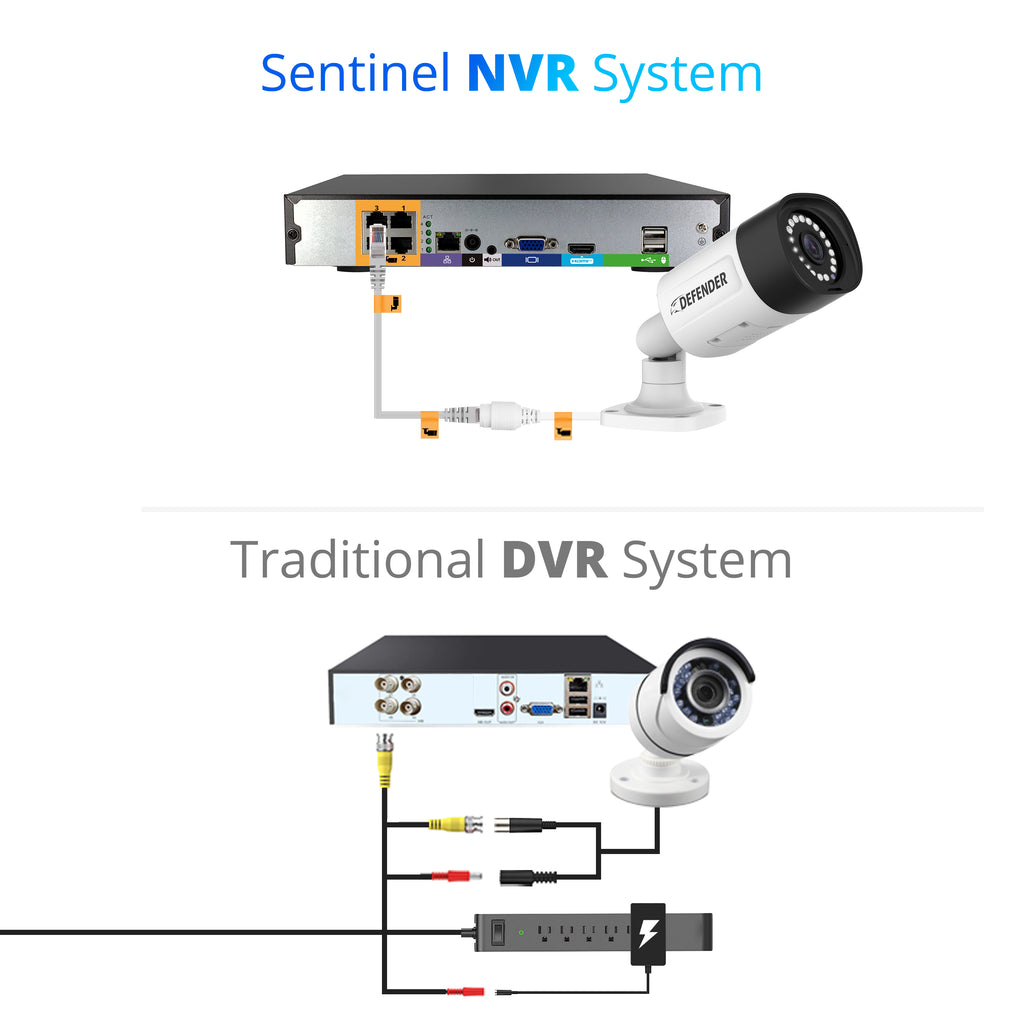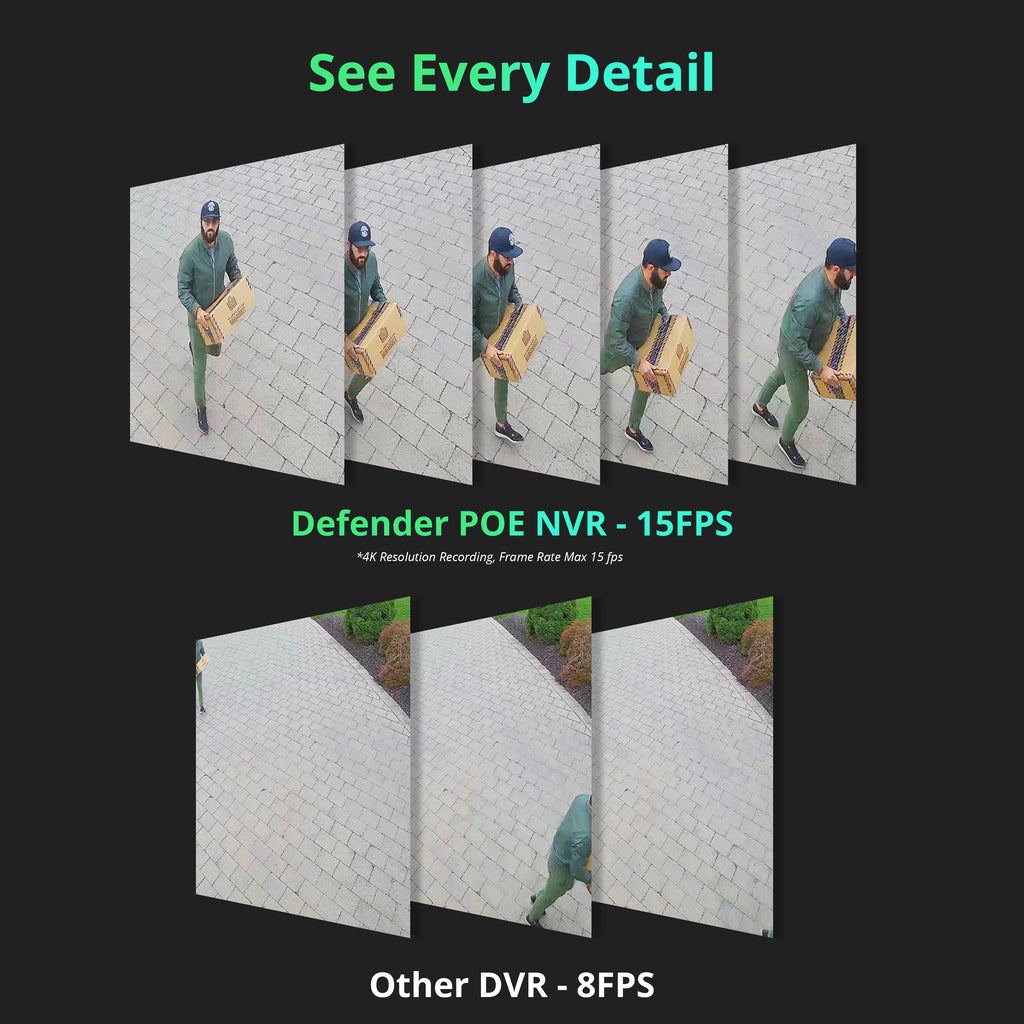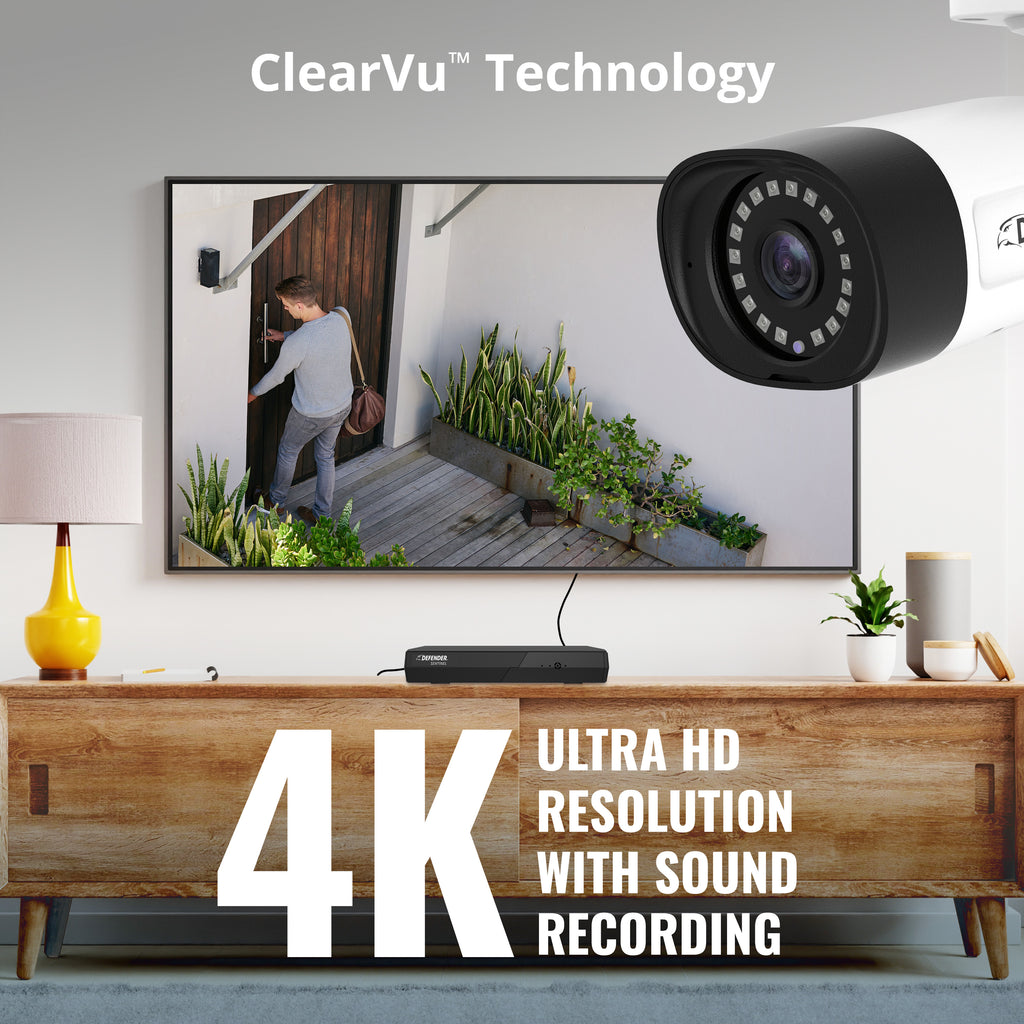 Sentinel 4K NVR Ultra HD Wired Additional Metal Security Camera (Non-Color Night Vision)
Camera Only, Ethernet Cable not included
Sentinel 4K NVR Ultra HD Wired Additional Metal Security Camera (Non-Color Night Vision)
A Genuine, Authentic, and Certified additional 4K Ultra HD Wired Security Camera to work perfectly with your Defender Sentinel 4K Security System.
Compatibility Note:This camera is ONLY compatible with Defender Sentinel NVR Security System. This camera can not be used with other Defender or third-party models and can not be used as a standalone camera.
Only 49 left in stock - Order soon!
OVERVIEW
SPECS/SUPPORT
REVIEWS
All-in-one cable provides power, video & audio. No BNC cables or camera power adapters required!
See every moment that matters in unparalleled 4K Ultra HD quality with audio recording. Enjoy true to life footage, including visibility of faces and license plates. 
Night Vision
Capture every detail, up to 100 ft away, even in complete darkness. 
Audio Recording
Give your video footage the full story with extremely clear audio.
Using a high-sensitivity mic, sound and picture are perfectly synchronized to get the full picture of what really happened.
Smart Human Detection
Using leading edge technology, the Defender Sentinel camera can easily differentiate between humans, animals, and other objects, significantly reducing unnecessary notifications.
Metal IP66 Weather Rated Cameras
The Sentinels is crafted with a premium aluminum alloy finish, and built to withstand the elements. Durability is far superior to that of traditional plastic cameras. The Sentinel is built to last.
1x Sentinel 4K NVR Ultra HD Wired Additional Security Camera (Non-Color Night View)  

1x Camera Mounting Hardware Pack

1x Drilling Template 
Resolution:8MP Sensor:1/3" CMOS Sensor Lens:4mm Day-Night Mode: ICR Infrared Filter Type DNR:3D Digital Noise Reduction Dynamic Range:Not Supported IR Distance:18 infrared lights (20 meters) Video Compression:H.265/H.264 Resolution:Main stream:3840*2160, Sub stream:800*448 Frame Rate:Max 15fps, frame rate self-adaption Image Settings:Saturation, brightness, contrast, and sharpness can be adjusted by NVR or the client Backlight Compensation:Yes Image Reversal:Support horizontal and vertical reversal Privacy Masking:Yes Intelligent Alarm:Humanoid detection alarm; motion detection alarm Alarm Notification:Alarm notification push Supporting Agreement:TCP/IP, ICMP, HTTP, DHCP, DNS, RTP, RTSP, NTP, IGMP Interface Protocol:N1/RTSP/ONVIF agreement Operating Temperature and Humidity:-40℃~50℃, Humidity less than 95% (non-condensing) Power Adapter:DC 12V/1A (Note: DC12V Φ5.5mm round head power supply must be prepared separately) Protection Level: IP66, TVS 4000V lightning protection, surge protection, and surge protection
"The app itself utilizes 128-bit encryption. This is the same level of encryption used by major banks, as well as Apple's "unhackable" phone encryption"
"The daytime image quality and resolution are absolutely the best you'll find at this price point"